Pigeon Pea Peeling Machine Pigeon Pea Peeler
Pigeon Pea Peeling Machine Pigeon Pea Peeler
1. Peeling rate: 98%; 2. Scientific and reasonable design 3. Easy dismounting and maintenance
Pigeon pea peeling machine can peel pigeon pea and other beans effectively. The pigeon pea is also known as kardis, gandule bean, tropical green pea, kadios, Congo pea, gungo pea, gunga pea, fio-fio, mgbụmgbụ, no-eye pea, toor dal, arhar dal, togari bele (ತೊಗರಿ ಬೇಳೆ) in Kannada, thuvaram paruppu (துவரம் பருப்பு) in Tamil, thuvara parippu (തുവരപ്പരിപ്പ്) in Malayalam, kandi pappu in Telugu, and mbaazi, and, in Tanzania, mzimbili mussa. Pigeon pea peeling machine can improve pigeon pea edible value and improve the taste by removing the bean husk.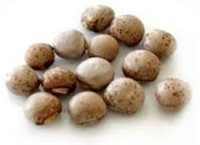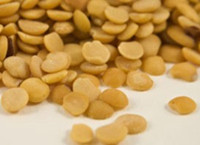 Pigeon pea peeling machine adopts dry method and utilizes high-speed rotation emery blade to continuously cut and rub the pigeon peas. Then it damages the bonding strength between the pigeon peas and the pigeon pea cortex so as to remove the pigeon pea cortex. Meanwhile, it can separate the mixing black impurities. It has highly efficient air suction chamber inside to collect the corn cortex from peeling process.
Pigeon pea peeling machine features:
Scientific and reasonable design
Reliable peeling performance, low peeling noise
Easy dismounting and maintenance
Strong negative peeling and hulling ability, less broken pieces, strong ability in bran removing.
Wide usage in large, medium and small edible enterprises, corn and grain processing plants and feed enterprises.
Pigeon pea peeling machine can peel different kinds of beans, such as soybean, lentil, mung bean, navy bean, cowpea, small red bean, chickpea, broad bean, kidney bean, butter bean, pea and so on.
Pigeon pea peeling machine parameter: (Letter A means external air blower. Letter B means internally installed air blower)
Model

Emery Roll Diameter

(mm)

Emery Roll Length

(mm)

Spindle Speed

(r/min)

Yield

(t/h)

Power

(kW)

Air Volume

(m³/h)

Size

(L*W*H)

(mm)

MTPS-18D/A

Φ180

660

1300

1~1.5

22

1370×700×1900

MTPS-18D/B

Φ180

660

1300

1~1.5

22

1500-1800

1410×1220×2030

MTPS-25D/A

Φ240

660

1050

2-3

30

1515×660×2100

MTPS-25D/B

Φ240

660

1050

2-3

30

1800-2100

1515×1220×2100
Corresponding parameter set not found, please add it in property template of background
暂未实现,敬请期待