MLGX25B Gas-Driven Automatic Rubber Roller Rice Huller Machine
MLGX25B Gas-Driven Automatic Rubber Roller Rice Huller Machine
A rice huller or rice husker machine is an agricultural machine used to automate the process of removing the chaff (the outer husks) of grains of rice. There have been numerous techniques to hull rice.
Automatic Rubber Roller Rice Huller Machine uses novel fodder system, advanced timing belt transmission mode, reliable shedding plate automatic trailing rubber roller and gas-driven automatic elastic roller which make the rice roller techniques more high-efficiency and reliable.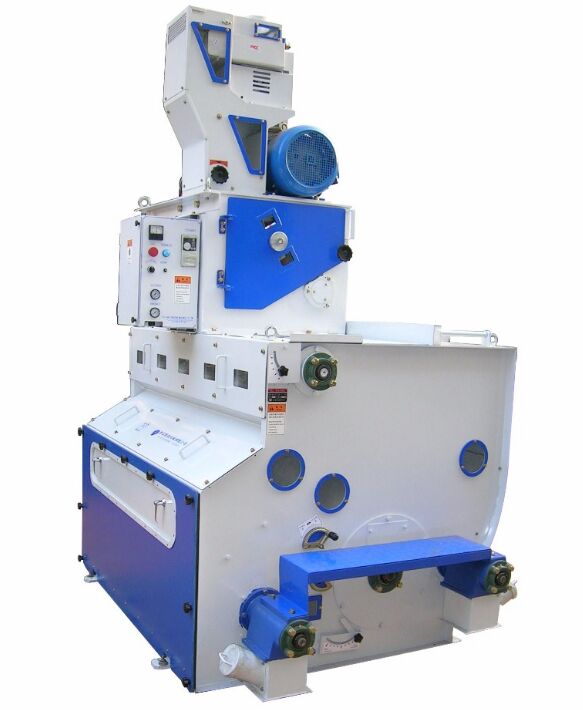 MLGX25B Pneumatic Husker Machine Features:
1. High husking degree and uniform husking ratio thanks to automatic, continuous and accurate control of husking pressure.
2. Digital intelligent feeding system ensures continuous, uniform and adjustable stream of paddy rice.
3. Automatically loosen rubber rollers by sensor if no paddy gets into husker, protecting rubber rollers and save time.
4. Stable performance and low power consumption thanks to accurate timing belt transmission.
5. Adopts reliable safe technology protecting motor from being damaged by short-circuit current or overload voltage.
6. Through air suction and vertical air channel, paddy husks can be highly separated.
7. Easy to use, visible operation on user-friendly LED display.
Automatic Rubber Roller Rice Huller Machine Main Technical Parameters:
| | |
| --- | --- |
| MODEL | MLGX25B |
| Capacity(t/h) | 3.5~5 |
| Aspirating capacity(m2/h) | 4200 |
| Power(KW) | 2×5.5 |
| Exterior size (L×W×H,mm) | 1510×1080×1924 |
Corresponding parameter set not found, please add it in property template of background
暂未实现,敬请期待